FITB director Dylan Mohan Gray's video message to the audience at CANFAR screening in Toronto, 16 November 2016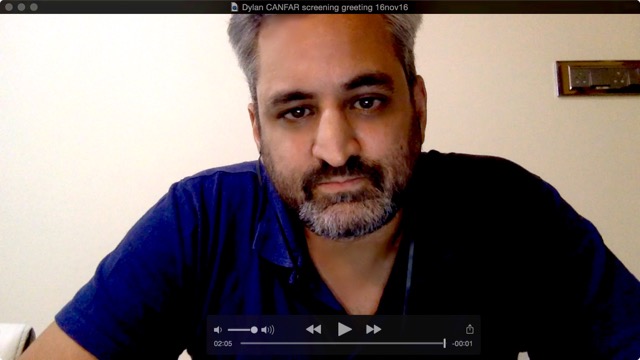 Hello from India to everyone at tonight's screening in Toronto…
This film took about five and half years to make and was unsurprisingly a life-changing experience.
It has been crisscrossing the world for a couple of years now and it has been an incredible gift to take it to all kinds of audiences in so many places, everywhere from a rural village school to UN headquarters…
Just as I am both proud of and heartened by the impact Fire in the Blood has had and the role it has played in changing the conversation around access to essential medicine, it is equally if not more discouraging that the issues laid out in the film have only become more critical and more entrenched during the very same period of time.
The unrelentingly pro-corporate trade agenda pushed by the Obama administration and the likes of Stephen Harper may now alter slightly with the new wave of populism embodied by Trump and Brexit, but wherever there is the kind of colossal profit that government-granted monopolies on medicine makes possible, the chances for public health- and public interest-centric regulation are invariably slim, irrespective of the catastrophic consequences of severely limited access to the fruits of this knowledge, which when we are speaking about pharmaceuticals tend to be very cheap to produce.
While it is certainly true that developing new lifesaving medicines is a resource-intensive exercise, compared to revenues of even affordably priced drugs, the costs are in fact relatively modest. It is the brandname drug industry's addiction to insane levels of profit that cause the problems illustrated in Fire in the Blood, whereby millions have to die month after month so that these giants corporations can feed their insatiable appetites for vast profits, almost always reaping these windfalls on products researched using taxpayer funds.
I hope the film speaks to you. I'm very sorry I can't be there with you tonight, but would love to hear from anyone who feels like getting in touch. The film is available on demand and will soon be launching on the leading online subscription service, so please do spread the word to anyone you think might be interested.
Have a nice evening, thank you for coming and a special thanks to CANFAR for hosting this screening of our film.